Fish Along with TackleShare
Fish Along with TackleShare
This season we invite anglers to upload photos of their catches to receive free fishing prizes and entry into monthly prize draws from TackleShare sponsors.
Create Account | Login | Program Rules
This content has been restricted to logged in users only. Please
login
to view this content.
Fish Along with TackleShare – Educational Fishing Videos
All anglers – young and old, new and experienced – are encouraged to "Fish Along with TackleShare" staff as they head out each week to local lakes and rivers to fish for different species all year long.  Educational fishing videos will be posted to the YouTube Channel featuring fishing gear basics, all about various fish species,​ how-to instructions​, DIY projects​, cooking your catch, understand the fishing regulations​ and more to help new and novice anglers develop and hone their fishing skills. Additional videos will be posted showing how the TackleShare team fared on their on fishing adventures and tips and tricks they learned along the way.​
Fish Along with TackleShare Challenge
STEP 1: Catch a Fish in Ontario
Catch one of the 26 accepted species, in season (as per the Ontario Fishing Regulations), in a waterbody in Ontario. Qualifying fish species include: bass (smallmouth, largemouth), panfish (pumpkinseed, bluegill, yellow perch, rock bass, black crappie, white crappie), salmon (atlantic, chinook, coho, pink), trout (brown, brook, rainbow, lake, splake), channel catfish, brown bullhead, burbot, bowfin, walleye, common carp, muskellunge, tiger muskie, northern pike, cisco, and lake whitefish.
Step 2: Take a picture of you with the fish
A photo of you holding your fish is required for all entries.
Step 3: Enter your photo online
Create a free TackleShare account and upload your photo(s) of fish caught. All new entries will require validation from our team and will appear as "pending" until validation is complete. Once your entry is validated it will appear online and you will be notified by email. If you catch more fish, log into your account and enter each one.
Step 4: Win awards and prizes!
Each angler who submitted a photo that month will be entered into monthly prize giveaways. At the end of the year, anglers will receive free prizes via mail for completing the awards below.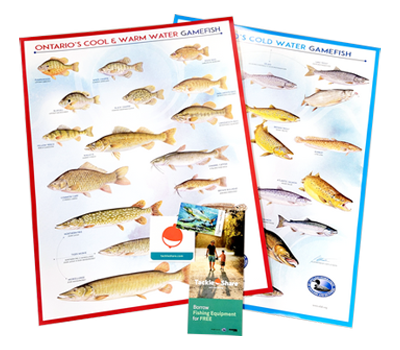 First Catch of the Year Award
Enter your 1st species and receive warm and coldwater fish posters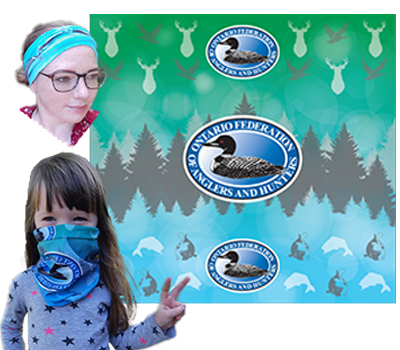 Promising Prospect Award
Enter your 3rd different species and receive an OFAH buff.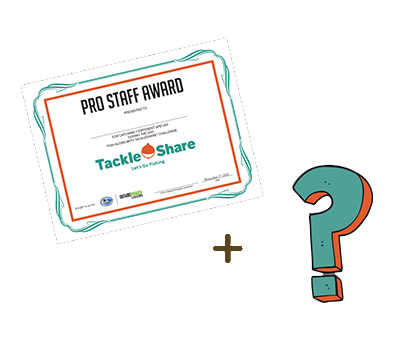 TackleShare Pro Staff Award
Enter your 7th different species and receive a certificate and surprise item.