How does it work?
Fishing rods, reels, and tackle boxes are ready to be borrowed at over 140 loaner sites in Ontario…just like a library book!
Find your nearest loaner site*
Call them to ensure rods are available
Fill out a quick sign out form
Go Fishing!
Return gear to the same location
and repeat!
---
Watch this video on how to borrow fishing gear for FREE from a TackleShare loaner site
Since its launch in 1998, the program has become a province-wide success with over 140 loaner sites. Thanks to this program, accessibility to angling equipment is no longer a barrier, and children and families are able to get involved in recreational fishing together.
*Sites operate spring to fall. (Some locations may vary). 
Interested in becoming a loaner site?
The addition of new loaner sites is done on a case-by-case basis as equipment and suitable sites are identified. While we are currently not adding new loaner sites, all applications will be kept on file for future consideration when additional equipment becomes available.
Loaner Sites
Find a TackleShare loaner site in this map and borrow fishing equipment for FREE!
(To enlarge map and search by city name, select the ⛶ icon below.)

To be eligible as a TackleShare Loaner site, you must:
Be within a reasonable walking distance to a fishable shoreline
Keep fishing equipment tidy and readily available for all participants
Promote free use of TackleShare fishing equipment to the public whenever possible
Stress water safety as the number one concern!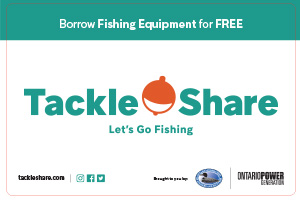 In return, the TackleShare program will provide you with:
Fishing equipment (rods, reels, and tackle)
Promotional materials (posters, brochures, young angler licences, etc.)
Educations materials (current fishing regulations, other fishing-related booklets)
If you would like more specific information about becoming an TackleShare Loaner site, please contact us and we will provide you with more details.